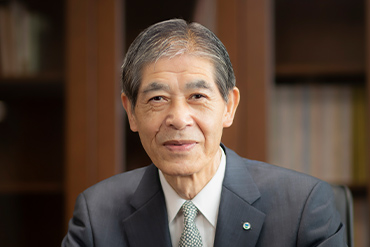 Matsumoto University President,
Akira Sugenoya
Maintaining and expanding existing educational methods and promoting peace education, in tandem with exchanges with other universities
Our unique educational methodology, including off-campus study, has been highly evaluated nationwide. We will continue to maintain this outstanding assessment from outside sources, and at the same time, we will further clarify our unique educational attributes. We will reaffirm our stance as a regional university that is neither national nor private, while facing the future as a university that is focused on regional development and regional partnership. To this end, we will promote peace education and exchange with other universities, while actively working to create a new environment that includes welfare and other social benefits. In their daily lives, I would like our students to always view events from a regional perspective, which is our forte, as well as from a national, international, and global perspective. I sincerely hope that our students will deepen their own thinking with these three perspectives, and that they will be able to "change the country from the region."

With these three perspectives, I strongly hope that our students will deepen their own intellectual abilities; devote themselves to their studies with "the spirit to move the country from the region;" support the local region; carry the country on their shoulders; and, spread their wings to the entire world.