Founding Spirit
Autonomy and Independence
Matsumoto University (Faculty of Comprehensive Management / Faculty of Human Health and Science) and Matsusho Junior College were established and are managed by Matsusho Gakuen. Matsusho Gakuen was proceeded by "Shiritsu Bojutsu Gakkai (Private Bojutsu Academy)," a private academy established in Matsumoto in 1898 by local entrepreneur and educator Tsuruto Kizawa under the tutelage of Yukichi Fukuzawa, an opinion leader of modern Japan, with a desire to educate people based on the spirit of being "Autonomy and Independence." This "Autonomy and Independence" was the founding spirit of Matsusho Gakuen and remains strong today.
Philosophy
Contributing to the Community
One aim listed in Matsumoto University's articles of incorporation is, "We aim to contribute to the local society through education and research." In other words, "contributing to the community" is the basic philosophy of this university.
Mission and Purpose
Nurturing of People Who Can Contribute to the Local Society
At Matsumoto University, we state our mission and purpose in Article 2 of our School Code, as follows: "Through educating people based on the founding spirit of autonomy and independence, the founding spirit of this university, and in accordance with the aims of the Basic Act on Education and the School Education Act, we aim to nurture human resources who contribute to the vitalization of the local society and development of the local culture, thus contributing to the creation of a richer, more peaceful society."
Three Policies
for All of Matsumoto University
1. Diploma Policy
In order to achieve the aforementioned mission and purpose, we at Matsumoto University strictly evaluate students' grades throughout the curriculum, certifying the completion and graduation and awarding diplomas to students who have taken and completed the required credits in the curriculum of the graduate or undergraduate faculty, thus gaining the following skills.
They have gained the basic skills fit for a member of the local society.
They have gained the ability to analyze modern society with a wide perspective, making decisions and acting independently.
They have gained the specialized competence expected by society from person with a bachelor's or master's degree.
2. Curriculum Policy
Focusing on accomplishing the following three conditions, Matsumoto University formulates curriculum consisting of basic (liberal arts), career-related, and specialized subjects, carrying out education with a sense of uniformity in targets, contents, methods, and evaluations. We aim for students to get a broad liberal arts education as well as basic and specialized skills, learning the skills necessary to specifically understand the problems in modern society and solve these issues.
We cultivate basic skills for members of society, including communication and presentation skills and interpersonal relationship building skills.
We heighten students' competence in their specific graduate course and each undergraduate faculty and department, polishing their ability to contribute to the development of the local society.
We heighten students' intellectual skills as the liberal arts education necessary to live in modern society, namely, "being able to understand the background of modern issues and respond with a broad perspective."
3. Admission Policy
Matsumoto University has established a diversified admission system with the basic goal of admitting students interested in the following perspectives and points based on the philosophy of the graduate and each undergraduate faculty and department, as well as our diploma policy.
People who try to build good relationships with other people and society.
People who understand the founding spirit of "Autonomy and Independence" and want to contribute to the development of the industry and culture of the local society.
People who want to improve their own skills in order to contribute to society as core human resources.
Certification Evaluation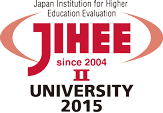 JIHEE
We received certification from the Japan Institution for Higher Education Evaluation as a compliant school in 2015.

JACA
We were certified as a compliant school by the Japan Association for College Accreditation through third-party evaluation in 2015.